CSKA became the owner of the Gagarin Cup-2022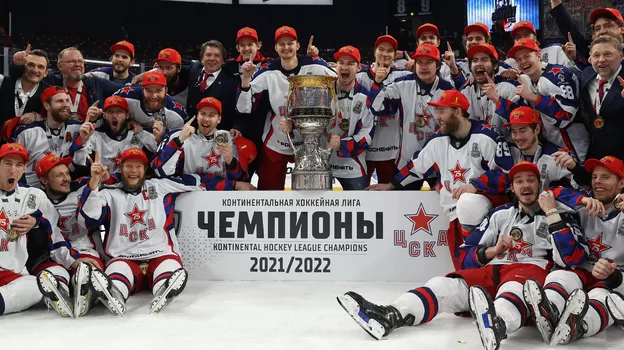 In the seventh and final match of the final series of the KHL playoffs, the army defeated the Metallurg hockey players with a big score of 4:1. The overall score in the series was 4-3 in favor of CSKA.
The final match of the series was held in Magnitogorsk. The first period was entirely for the CSKA players. The army did not allow Magnitogorsk to realize a single moment, and they themselves hammered two goals into Vasily Koshechkin's goal at once. In the eighth minute Pavel Karnaukhov scored from the transfer of Konstantin Okulov, and exactly a minute later Alexander Popov realized the transfer of Andrey Svetlakov.
At the start of the second period, Magnitogorsk tried to impose a fight on CSKA, but the army did not make mistakes. By the end of the 20-minute Koshechkin missed the third goal, this time from Okulov. 1.06 before the siren for the break, "Magnitogorsk" returned to the game! The goal of hope was scored by Canadian Philippe Maillet.
At the end of the third period, the Army team regained a more than comfortable advantage of three goals, scoring into the empty gates of Magnitogorsk. The author of the last goal in the playoffs was Vlad Kamenev. CSKA won the KHL playoffs, defeating Magnitogorsk in the seventh match with a score of 4:1.
The Army men were able to recoup in the series with Metallurg from the score 1-3, having won three victories in a row. CSKA, under the leadership of Sergei Fedorov, won the Gagarin Cup for the second time in its history. For the first time, the capital's club won the trophy in the 2018/19 season, beating Avangard under Igor Nikitin. Last year, Avangard got even with CSKA in the final and took the Cup.
Metallurg, whose head coach is Ilya Vorobyov, last won the Gagarin Cup in the 2015/16 season. Before that, they took the trophy for the only time in 2014.